The American Association of Breast Care Professionals & The International Society of Breast Care Professionals have partnered with NOAA as NOAA Weather Ambassadors to bring you the latest in disaster preparedness for you and your business.
The Atlantic Hurricane Season 2023 begins Wednesday, June 1, and runs through November.
What kind of impact with the near-average hurricane activity, as predicted by the National Oceanic and Atmospheric Administration (NOAA) earlier this week, have on businesses this Summer?
NOAA forecasters with the Climate Prediction Center, a division of the National Weather Service, predict near-normal hurricane activity in the Atlantic this year. NOAA's outlook for the 2023 Atlantic hurricane season, which goes from June 1 to November 30, predicts a 40% chance of a near-normal season, a 30% chance of an above-normal season and a 30% chance of a below-normal season.
NOAA is forecasting a range of 12 to 17 total named storms (winds of 39 mph or higher). Of those, 5 to 9 could become hurricanes (winds of 74 mph or higher), including 1 to 4 major hurricanes (category 3, 4 or 5; with winds of 111 mph or higher). NOAA has a 70% confidence in these ranges.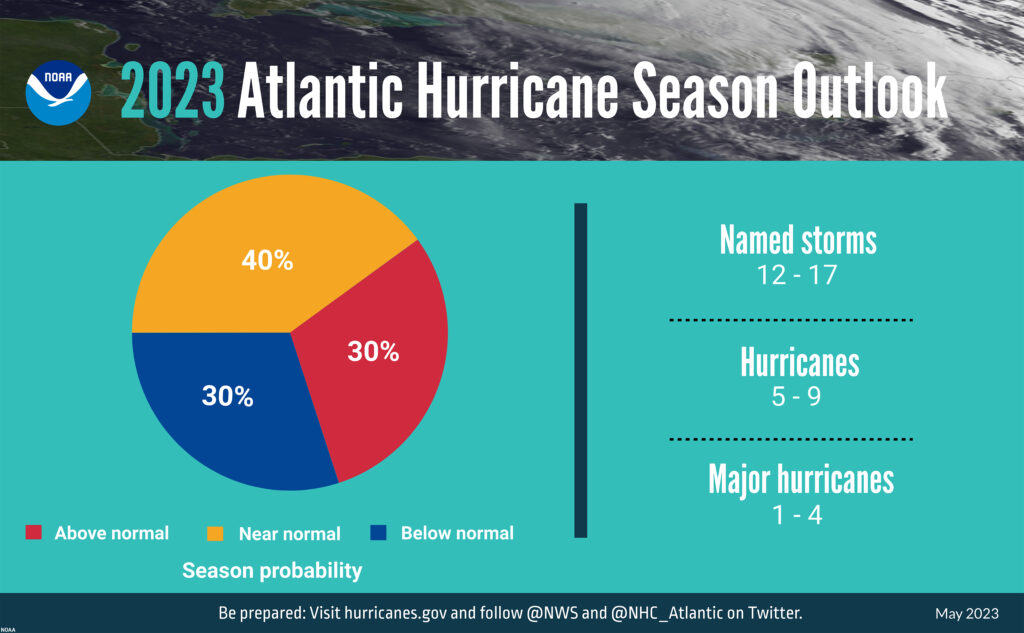 ---
"Hurricane Ida spanned nine states, demonstrating that anyone can be in the direct path of a hurricane and in danger from the remnants of a storm system. It's important for everyone to understand their risk and take proactive steps to get ready now by visiting Ready.gov and Listo.gov for preparedness tips, and by downloading the FEMA App to make sure you are receiving emergency alerts in real-time."FEMA Administrator Deanne Criswell